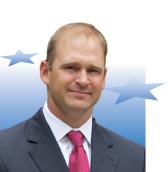 Chad Rolstad [AGE 36]
Director of Strategic Sourcing and Supply
BNSF Railway Co.
Chad Rolstad didn't begin his career working for BNSF Railway Co., but it seems preordained that he would end up there.
Rolstad started out in the forest products industry after studying mechanical engineering at the Colorado School of Mines. When BNSF hired him as a tie buyer seven years ago, he was continuing a family tradition of working for BNSF or one of its predecessor companies.
"I'm a fifth-generation BNSF legacy, which is something I am very proud of," says Rolstad, whose great-great grandfather was a locomotive engineer with the Chicago, Burlington and Quincy Railroad in the early 1900s.
As director of strategic sourcing and supply, Rolstad leads a team responsible for the BNSF's purchase, supply and distribution of infrastructure materials such as rail, ties, ballast, specialty track work and signal materials. He also oversees the team responsible for disposal and sale of obsolete and excess materials.
"Chad has been involved in several innovative, collaborative and strategic initiatives ... that have significantly reduced the total cost of BNSF's supply chain, improved efficiencies, streamlined operations and driven significant value to the bottom line for BNSF as a whole," writes Todd Nicholson, BNSF's general director of strategic sourcing who nominated Rolstad as a Rising Star.
Rolstad's inspiration?
"My mother. I was the oldest of four children to a single mother, who worked as a labor-and-delivery nurse for over 20 years. Being the single mother of four takes a lot of sacrifice and commitment to ensure your children have everything they need."
His five-year career plan?
"Most of my career has been spent in capital construction and maintenance, and I hope to be able to continue to grow in leadership roles associated with that."
His favorite pastime?
"I have two daughters, 6 and 8, so I spend a lot of time as a soccer dad. I also spend time with my wife, Erin. We enjoy playing golf."
---
Keywords
Browse articles on Chad Rolstad on Progressive Railroading
More articles