By Angela Cotey, Associate Editor

It has been one year since Hurricane Sandy devastated the New York and New Jersey coastlines, damaging infrastructure and impacting rail service throughout the region. With efforts to complete long-term repairs to infrastructure damaged by saltwater under way or scheduled to begin soon (as Progressive Railroading reported in its November issue), officials at New York-area transit agencies now are turning their attention to reinforcing vulnerable assets to withstand future storms.

In July, ProgressiveRailroading.com posted a web-exclusive feature about MTA New York City Transit's (NYCT) newly established Sandy Recovery and Resiliency Division, a team of in-house staff engineers project managers and procurement specialists, as well as contractors, tasked with managing the hurricane recovery effort.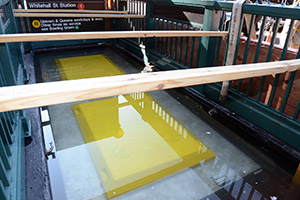 MTA New York City Transit is testing removable subway stair flood control covers at stations.
Photo: Marc A. Hermann / MTA New York City Transit
Today, the team has issued 38 design task orders to a number of consultants to protect a wide range of subway infrastructure, says NYCT spokesperson Kevin Ortiz. Assets in need of protection include station entrances, vents, elevator shafts, access hatches, emergency exits, manholes, utility entrances, machine rooms, sewer lines, fan plants in under-river tubes, track, signals, train shops and yards, substations and train towers.

Consultants will provide NYCT officials with their final assessments in the coming months. Then, the agency will test various flood-mitigation strategies.

"We're an older system, and everything was uniquely built," says Ortiz. "So, we're looking at various designs for various locations. A vent at one station could be vastly different from a vent at a station a couple of blocks away."

NYCT also is working on pump room augmentation, and design work for flood mitigation at yards and ventilation plants that flooded during Hurricane Sandy. Flood mitigation plans also are being pondered for St. George Terminal and Clifton Shop on the Staten Island Railway.

MTA Metro-North Railroad officials are eyeing $128 million in resiliency projects that range from improving drainage to raising equipment in low-lying areas. For example, the agency is conducting design work to replace three Hudson Line substations damaged during Sandy — those located at Riverdale, Tarrytown and Croton-Harmon. During the replacement, those substations will be raised.

The agency also is considering installing water-level monitoring alarms at key facilities. The systems would comprise monitors, sensors and cameras that transmit information to Metro-North's control center, alerting workers if water begins creeping above normal levels.

And, immediately after the storm, Metro-North contracted a hydrologic consultant to map all the railroads' assets — including impedance bonds, signal motors, stations and substations — and their elevations.

"Whether it's a full moon or high tide, winter or summer, we have a very specific height of everything we own," says Metro-North spokesperson Marjorie Anders.

So, when forecasters predict a storm surge, the agency can more accurately predict which assets might be at risk for damage and take the necessary steps to protect them.

But no matter how many flood-mitigation projects Metro-North and other area transit agencies implement, there's no guarantee the infrastructure won't be impacted by future storms, especially given the geography.

"We do have a rail line that basically runs immediately adjacent to the Hudson River and is just slightly above elevation, so there are a lot of challenges with that," says Kim Smith, Metro-North's deputy director of capital planning and programming. "But where we can, we are trying to protect against future storms."

If Metro-North's Hudson Line were to flood again, as it did during Sandy, the Penn Station Access Project could provide an alternative for trains traveling into New York City. The agency is preparing environmental analyses for the project, which would enable Metro-North trains to use Amtrak's right of way in the eastern Bronx to Manhattan.

"That would give us some redundancy if we lost service on one of our lines," says Anders.

NYCT, Metro-North and other area transit agencies plan to cover at least some of the cost of their flood-mitigation projects with federal dollars, through the Hurricane Sandy relief bill. The Federal Transit Administration still is determining how the lion's share of the resiliency money included in the measure will be allocated, says Smith, adding that agencies likely will have to compete for grants.











---
Keywords
Browse articles on Hurricane Sandy on Progressive Railroading
More articles