Promote your company on HSRUpdates.com with an ad that links high speed rail decision makers directly to your website. Showcase your company's products and solutions and retain existing customers and acquire new ones in the lucrative high speed rail market.
Leaderboard and image ads will be displayed on HSR Weekly Updates.
Top Leaderboard:
Contact Your Sales Representative
Dimensions: 720x90 pixels
File Size: 70k maximum
File Type: GIF, JPEG or *Flash
Price: $2,000 Net/Month

Right Column Image A & B:
Contact Your Sales Representative
Dimensions: 300x200 pixels
File Size: 70k maximum
File Type: GIF, JPEG or *Flash
Price: $900 Net/Month
Case Study/White Paper:
Contact Your Sales Representative
Emailed to 50,000 railroad decision makers.
Archived and available to download for 6 months following publication.
Price: $2,500 Net

Classified Text Ads:
Purchase directly online with your credit card.
Click here to purchase.

Tracking And Statistics:
Statistics tracked for leaderboard and image ads include impressions and click throughs.

Classified ads do not include impression or clickthrough tracking .
Ads run throughout the site for the duration of the program.


Email materials to:
webads@tradepress.com
(Please indicate in the email the materials are for
HSRupdates, company name, ad position and date.)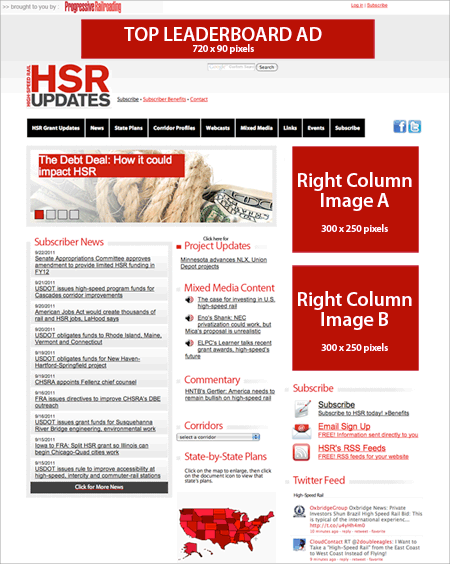 Contact Your Sales Representative


3rd Party Ad Serving:
We are able to accommodate 3rd party ad serving and tracking like Dart or Atlas. If you go this route, all ads still need to accommodate our tracking links and conform to file size specifications. Also please indicate when sending materials that you are using a 3rd party ad serving/tracking system.


Special Requests:
For interactive, video or special advertising requests please contact one of our sales staff.
* Flash Ads

Sample Flash file (FLA) with Click-thru code
The download examples below shows how Flash Advertising files should be linked for proper usage on HSRUpdates.com.
NOTE: The Actionscript in the FLA file is attached to the "button" layer. DO NOT add to, or alter the ActionScript in any way otherwise the click tag won't work.
The use of clickTAG is an industry standard and should be followed in any creative you send to your account representative. We also recommend the use of Flash 8 or earlier for your file format.
Download clickTAG Usage Leaderboard Ad Example (6k)
Download clickTAG Usage Image Ad Example (5k)
Flash ads must also have alternate JPEG or Gif version
For agencies or individuals supplying Flash animated ads, you must also include static JPEG or animated GIF versions of the ads for those HSRUpdates.com users that do not have Flash installed on their systems. These Alternate versions of your ads cannot exceed 40k each.