Request for Proposals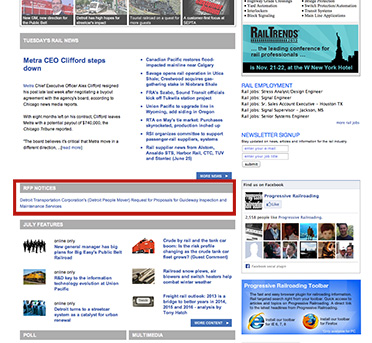 New double-exposure online advertising opportunity.
This high-impact component to the Daily News eNewsletter features your RFP Notice headline. 50,000 rail professionals click on your headline and go directly to a landing page on ProgressiveRailroading.com with a description and details of your RFP. Your headline in the Daily News eNewsletter appears for one day and your ad headline on the ProgressiveRailroading.com home page runs for one month.

Circulation Total: 50,000

Contact your sales rep today to learn how you can reach a larger audience and boost your bottom line.



Mike Singler
Central Regional Sales Manager

Phone: 815-302-7055
Bridget Quaglia
Eastern Regional Sales Manager

Phone: 610-207-0252
Zach Hansen
Northern and Western Regional Sales Manager

Phone: 612-834-3359
Materials Required
Headline to appear on the Daily eNews/ProgressiveRailroading.com home page
RFP description and details (for landing page). Please send word or text document with the information exactly as it should appear. No text limit. Note: If this text contains any photos or links they must be hosted on your site and have full paths to the images or links.

Be sure to indicate in the email the materials are for an RFP Notice and indicate your company name.