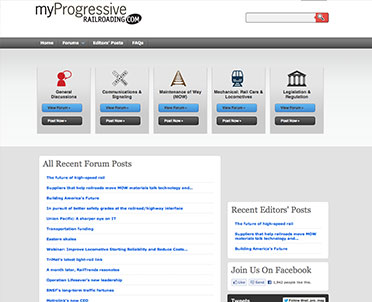 Put your advertising on this active site and be seen where the industry gathers.
MyProgressiveRailroading.com is the hub of the railroading industry. This community allows rail professionals to connect with their colleagues, discuss management strategies, share valuable resources and build strong relationships.

MyProgressiveRailroading.com Features:
Extensive Industry News
Blogs
Forums
Multimedia
Much More!
Contact your sales rep today to learn how you can reach a larger audience and boost your bottom line.



Mike Singler
Central Regional Sales Manager

Phone: 815-302-7055
Bridget Quaglia
Eastern Regional Sales Manager

Phone: 610-207-0252
Zach Hansen
Northern and Western Regional Sales Manager

Phone: 612-834-3359
Mechanical Specifications
MyProgressiveRailroading.com Leaderboard and Top/Bottom Image Ads:
Materials needed: Ad and URL it should link to.


Ad Specs:
Top/Bottom Image Ad
-
Width:
300 pixels
Height:
250 pixels
File Size:
50k maximum
File type:
gif, jpg or flash*
URL
: Provide URL to link to
Leaderboard Ad -
Width:
720 pixels
Height:
90 pixels
File Size:
40k maximum
File type:
gif, jpg or flash*
URL:
Provide URL to link to
*
Flash Ads:
Flash files require a special prefix for tracking before links. Must be Flash CS4 (or lower) compatible using actionscript 2.0. Send in original Flash file so links can be updated. Do not send .swf file. Sound must have the option to mute for user. Cannot exceed ad dimensions at any time. File size is for total ad size plus external downloads. You cannot exceed file size by using external downloads.
Download clickTAG Usage Top/Bottom Ad Example (5k)
NOTE: The Actionscript in the FLA file is attached to the "button" layer. DO NOT add to, or alter the ActionScript in any way otherwise the click tag won't work.
For agencies or individuals supplying Flash animated ads, you must also include static JPEG or animated GIF versions of the ads for those MyProgressiveRailroading.com users that do not have Flash installed on their systems. These Alternate versions of your ads cannot exceed 40k each.

Be sure to indicate in the email the materials are for a MyProgressiveRailroading.com ad and indicate your company name.